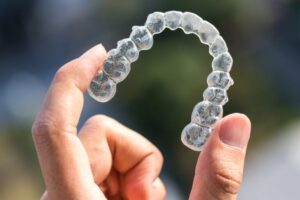 Straighten your smile with nearly invisible clear aligners. Hill Country Dental offers Clear Aligners for the patients of New Braunfels, Texas, and surrounding areas. Compared to traditional metal braces, clear aligners are a more discrete, straightforward way to straighten your teeth.
What are Clear Aligners?
They straighten your teeth progressively. On your first appointment, your dentist will measure your teeth and take an impression of them. Then, they will send this impression to a lab where they are made. Once the aligners are made, you will return to your dentist for your next visit. During this visit, you will try on the aligners. For the next year or so, you will come back to the dental office every one to two weeks for an appointment. They will give you a new set of clear aligners at this appointment. Each aligner is closer to your dream smile. At the end of the treatment, you will have a straight smile you will love.
What Type of Dental Concerns can Clear Aligners Fix?
Your treatment can help with several dental concerns. There are several bite concerns that Clear Aligners can help with, including open bites, crossbites, underbites, and more. Aligners can also help patients with crowded teeth or spaces between their teeth. If you are unsure if clear aligners are right for you, call our office.
Who is a Good Candidate?
Most patients who want to achieve a straight smile are good candidates. We recommend that all of your other dental concerns be addressed before undergoing  treatment. Secondly, your dentist will meet with you to help determine if you should address any problems prior to starting your treatment plan.
What are the Benefits?
There are several benefits of wearing Clear Aligners, from the convenience to the comfort to the nearly invisible appearance. They are more than just a trendy way to straighten your teeth. They are a comfortable and discreet way to achieve a straighter smile. Other benefits include:
Convenience: They are a convenient type of orthodontic treatment because you can remove them whenever they want. With aligners, you can eat whatever you want, including sticky and chewy foods. No more getting food stuck between your braces.
Comfortable: Our dentists use SmartTrack technology, making it even more comfortable to wear them throughout the day. They are more comfortable because although the material is tough enough to move your teeth, it is also soft enough not to irritate your gums and soft tissues.
Beautiful Appearance: They can help you achieve your dream smile. You can achieve a straight smile without the worry of the appearance of braces. Some patients want to straighten their smiles when aligners can help them discreetly.
No Discoloration: One thing that patients avoid with Clear Aligners are the discoloration that traditional metal braces can leave on teeth. After the brackets from conventional braces are removed, the discoloration can remain. The discoloration could cause not to brush the teeth while wearing braces thoroughly. With Clear Aligners, we recommend that you remove the clear aligners to brush your teeth, eliminating the risk of discoloration on your teeth after the treatment.
Choosing Clear Aligners can be a big decision. Clear Aligners are a discreet way to straighten your smile. In addition to being nearly invisible, Clear Aligners are also comfortable and convenient. We recommend that patients wear their clear aligners for 20 to 22 hours per day. The only time we recommend patients remove their aligners is when patients eat and brush their teeth. For more information about Clear Aligners or to schedule an appointment, call our office.