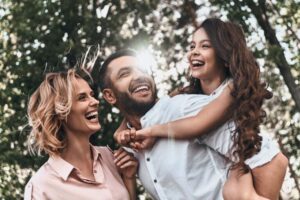 Help your family maintain beautiful and healthy smiles with general and family dentistry from Hill Country Dental on Walnut Avenue in New Braunfels, Texas. Our team of experts focuses on preventing oral health problems and maintaining a beautiful smile at our office. Learn how we can care for your smile through general and family dentistry from Hill Country Dental.
Convenient Dental Office in New Braunfels, Texas
At Hill Country Dental, we pride ourselves on being a convenient dental office for our patients and their families. As a family dentist, we provide convenient appointment scheduling. Now you can schedule each family member's appointments back to back to avoid driving back and forth to the dental office. Additionally, we can see every member of your family, from your youngest member to your oldest member. We have dental services for all ages.
What are the Benefits of a Family Dentist?
There are several benefits of a family dentist. First, as listed above, a family dentist is convenient for you and your family to improve your oral health. Secondly, a family dentist understands your family's dental history. Knowing your family history means that your dentist can help you anticipate future dental concerns. Talk to your dentist about your specific dental problems to see how they help you and your family.
A General Dentist Focused on Preventative Dentistry
At Hill Country Dental, we are a preventative dentist that focuses on general and family dentistry. Being a preventive dentist means that we focus on maintaining the health of your teeth and preventing future problems. Our dentists recommend that you and your family visit our dental office every six months for a dental cleaning and exam. A dental cleaning removes bacteria, debris, and plaque from your teeth and gums. You cannot remove plaque or tartar from home. They have to be released in a dental office with special tools. Your dentist examines your teeth and gums during the dental exam to look for dental concerns such as dental decay, cracks, or inflamed gums. Your dentist can then recommend restorative dentistry options for you to help make your teeth function and appear natural.
Restorative Procedures at a General Dentist
In addition to preventative dentistry, Hill Country Dental also offers restorative dentistry services. Restorative dentistry services help repair your teeth to their natural look and function. A few examples of restorative dentistry include dental fillings, dental crowns, dental bridges, and dental implants. Call our office if you have a toothache or know that you need dental restoration.
Cosmetic Dentistry at a General Dentist 
Brighten your smile with cosmetic dentistry from Hill Country Dentistry on Walnut Avenue. One advantage to a general and family dentist is that they offer cosmetic dentistry. Make your smile shades lighter with porcelain veneers or teeth whitening. Straighten your smile with clear aligners. Finally, look no further than Snap-on Smile if you are looking for a broad straight, white, and enlarged smile. It is a quick and simple way to snap on a new beautiful smile.
A general and family dentist can help you and your family maintain a healthy smile. Our office can schedule your family members back to back with convenient scheduling instead of on separate days. Additionally, we understand and can anticipate potential dental concerns by knowing your family history. We can use preventative dentistry to maintain your smile, restorative dentistry to repair your smile, and cosmetic dentistry to enhance your smile.
For more information about general and family dentistry, call our office.