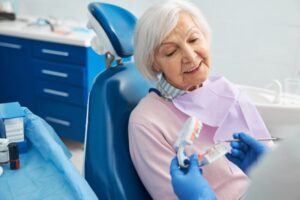 Restore your smile with restoration dentistry from Hill Country Dental in New Braunfels, Texas. At Hill Country Dental, we offer several ways to restore your smile, from dental fillings to dental implants to dental bridges and crowns. Learn how we can restore your smile with restorative dentistry.
If your tooth has decayed, you may need a dental filling. If we don't remove your dental decay promptly, it can spread around your tooth and your gums. Spreading decay can cause gingivitis and inflammation in your gums. Additionally, decay on a tooth can lead to the need for a root canal or dental implant. One way to prevent the spread of decay is to remove it and fill it in with a dental filling. A dental filling is a composite resin, similar to an acrylic resin material that molds your tooth. Once your dentist has crafted your dental filling, they will cure it in place with a blue light.
If you are experiencing extreme pain in your tooth, please visit our office. You may have dental decay that has reached the center of the tooth. When dental decay comes to the tooth's center, this could mean that you need a root canal. In this procedure, your dentist will first remove the decay present. Once the decay is gone, they will fill the channels of the tooth with a filling to support the tooth. For more information about root canals, call our office.
If you have a large amount of decay on a tooth or a crack in it, you may need a dental crown. We make the dental crown out of porcelain material that is durable and stain-resistant. A dental crown is a cap that fits over a tooth. Before we make the crown, we will take an impression of your teeth. Once the image is made, the crown can fit the tooth. Your dentist will first shave down part of the tooth to fit the crown over the tooth. Finally, we seal the crown onto the tooth with a bonding material. Your dentist will make slight adjustments at this time to smooth out your tooth.
A dental bridge is similar to a dental crown. Many patients think of a dental bridge as multiple dental crowns attached to replace one or more consecutive teeth. To place a dental bridge, first, your dentist will take an impression of your teeth. Once the bridge is made, your dentist will shave down the teeth adjacent to the missing tooth. The bridge will attach to these teeth. Next, your dentist will place the bridge on the teeth and connect them with a bonding material.
If you are looking to replace one or more teeth, a dental implant may be right for you. A dental implant replaces the entire tooth from the root to the crown. The dental implant has three main parts: the post, the abutment, and the attachment. The post is made of solid titanium material, and the abutment attaches the post to the crown. Lastly, patients can choose between three crowns depending on their restoration needs. If you are missing one tooth, your dentist can restore your smile with a crown placed on top of a dental implant. If you are missing more than one tooth in a row, you may opt for a bridge. Lastly, if you are missing an entire set of teeth, you may opt for denture-supported dental implants.
There are several ways that our office can support you and your restorative dentistry needs. We offer several restorative dentistry options such as dental fillings, crowns, dental bridges, root canals, and dental implants. For more information about restorative dentistry, call our office.